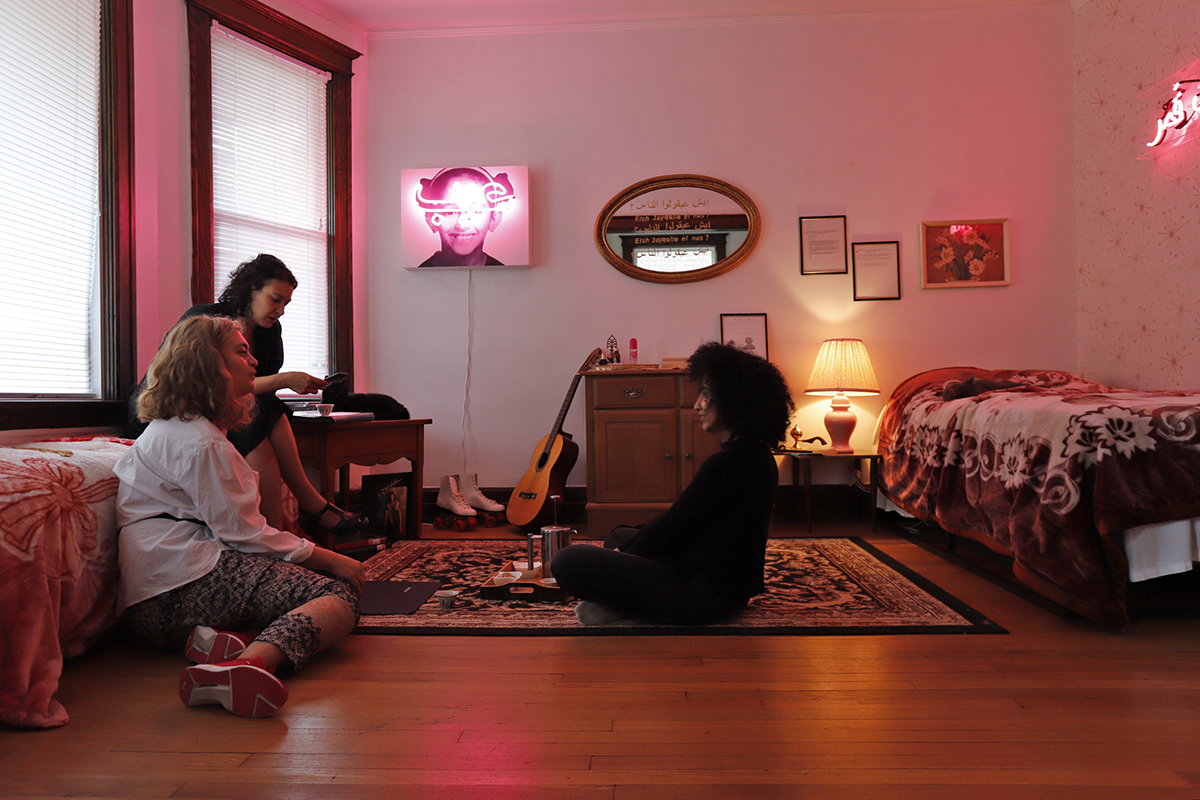 Dirty Laundry, 2019 (images from installation at Habibi House, Detroit)
In the shadow of the Motown Museum, another kind of studio emerges: Habibi House provides a space for artistic freedom, residency
Kinsey Clarke for The Neighborhoods
Detroit is a hub for accessible art, whose output doesn't stop at the museum district. Habibi House, in the Henry Ford neighborhood, is the brainchild of photographer and curator Noura Ballout, who also co-owns The Bottom Line Coffee House in Midtown. It's a studio and residency space set on a residential street where Ballout invites residents to come and "reimagine home together."
As a photographer, Ballout said that their goal for a long time was to have an artist residency program because they wanted to bring artists together and cultivate deep relationships with the people they're working with.
Doing this meant that they'd need to find somewhere that felt like a home, which they eventually found here in Henry Ford, which lies in the shadow of the hospital named for the auto baron, Northwestern High School and the Motown Museum. When Ballout was looking for a studio space for their photography, they knew that it "needed to be more than just a corner of a building where I'm making work."
"It looked like a good place to do this project in," they said. "It's important for me to connect with my neighbors as well. The thing that I want to do is take the things that people in the neighborhood enjoy doing and do that with them." That's what Habibi House's current exhibit Dirty Laundry – created by Chicago artist Yasmine Diaz – built on at its opening on May 17.
Dirty Laundry is Diaz's critique of adolescence, "religion, gender, and third-culture identity through a lens of a U. S. born Yemeni-American girl." The installation is an interactive recreation of her teenage basement bedroom as a place of refuge from her religious upbringing and the typical teenage angst that comes with young adulthood.
"It was a big deal for us because we had the whole space to ourselves, and it was kind of like having our own apartment. That was significant at the time because in our family (and) community, upstairs we had guests over often," Diaz said. "But as young women we had to constantly watch ourselves and not sit improperly, not speak out of turn, and downstairs we didn't have to worry about any of those things. We had total autonomy. We could play music, dance, gossip. We didn't have to worry about how we behaved."
For Ballout, the installation reflected some of their own work that explores identity.
"A lot of my work is about being an artist and a person in a diaspora," they said. "And also being queer and trans. One of the biggest difficulties for me was interacting with white people and Americans and…their expectation of the way I should be. (Navigating) that and their assumptions that 'How could you be all of those things?'"
Ballout plans to have a local artist cohort where four artists come together for dinner weekly at Habibi House and host an event during their residency during the summer.